A TRACK RECORD OF OVER 29 YEARS, IN MAKING PEOPLE HAPPY.
Royal Omania Tours & Travels Private Limited is a multifaceted company with over 29 years of glorious reputation, offering the entire spectrum of travel and holiday and pilgrimage services, across the globe.
Leading IATA certified travel agency, with an ever-growing clientele, Royal Omania Tours and Travels is headquartered in Kochi, and has branches across the world.


NO. 1 IN HOLY LAND PILGRIMAGE, NON STOP SINCE 1995. UNDOUBTEDLY UNDISPUTED.
Royal Omania is the pioneer in conducting Holy Land Pilgrimages from Asia and enjoys the unmatched record of conducting over 3,500 pilgrimages, with a total of around 3,50,000 pilgrims, from around the world.
.
The most amazing record is that it all happened in the last 29 years! Undoubtedly, a record, which will practically remain unchallenged for decades!
Our 'leading light'
Rev. Sleeba Kattumangattu
Our leading light, Rev. Sleeba Kattumangattu Cor Episcopa is widely addressed as the 'Good Shepherd to the Holy Land'. He has the unparalleled experience of leading over 3,500 Holy Land pilgrimages and over 3,00,000 pilgrims to the Holy Land, all in less than 29 years, from various destinations across the world! A rare accomplishment for travel and tour operators, anywhere in the world!
.
Rev. Sleeba also has the exclusive privilege of putting up the Lord's Prayer in Malayalam, at the Mount of Olives, Israel. Under his proficient leadership, Royal Omania became the true pioneers and undoubted leaders in Holy Land Pilgrimage, not just from India, but the whole of Asia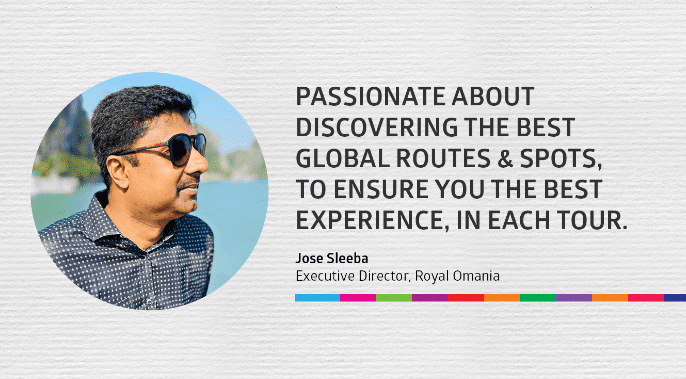 TEAM ROYAL OMANIA. THE HAPPY PEOPLE'S COLLECTIVE!
For a team or an individual to remain perfectly happy in their work, 3 things are essential: They must be fit for it. They must not do too much of it. And they must have the right dose of passion and success in it.
Team Omania is a bunch of simple and happy people, who knows how to keep you happy by consistently providing you the travel product or service in your mind, with utmost sincerity, transparency and efficiency.
JOY 'GUIDED' RIGHT!
Royal Omania has a carefully selected panel of experienced multilingual guides for all important places across Europe, Holy Land, America, Africa, Russia and Iceland.
Professional approach, in-depth knowledge of tourist destinations and routes are the other strengths of Royal Omania, renowned for its passionate and courteous workforce.
JUST PICK YOUR SPOTS AND LEAVE THE REST TO US!
Be it the hundreds of irresistible holiday spots world over, or the Holy Land, we offer you the best of both worlds. The best of value-added, hassle free itineraries, covering all the important destinations, in an eventful but relaxing timeframe!
.
What more can you expect from true professionals with 29 years of resourceful experience and excellence, in all sectors of the travel industry! Hearty welcome to forget all your worries, and Travel 100%!
TRAVEL 100%, WORRY 0%.
Royal Omania's thoroughly professional and transparent approach ensures that you can travel 100%, with 100% peace of mind, without any hidden costs!
The company with its uncompromising track record of perfectly designed and coordinated national and international itineraries, has set new standards of excellence in travel and tourism industries.
Royal Omania successfully conducts incentive travel for banks, corporates etc. and has full-fledged departments to conduct MICE tours, inbound tours, and special services for NRIs and VIPs.
WE ARE IN GOOD COMPANY, AND SO ARE YOU!
Royal Omania Tours & Travels stands tall with its resourceful affiliations and memberships in all important departments and professional associations. The details are as follows:
Company Registration (Reg. No. 18- 42788), IATA Member (Reg. No. 14-3 6331 1), TAFFI Member (Reg. No. KL1637AC11), IAAI Member (Reg. No. 428/SR). The company is also a longstanding member of the prestigious Indo American Chamber of Commerce.
GIVE US A REASON TO MAKE YOU HAPPY!
In the world of travel, we take all the responsibility for what we are obliged to ensure you. You won't hear us making any excuses!
Yes, just give us a reason to make you happy. For anything related to travel and tours, just walk-in to our office, or call +91 484 4177277 on office hours, or WhatsApp at +91 94470 70022
CONNECTED WITH THE BEST, TO ENSURE YOU THE BEST.
For your safety, and to ensure you a smooth journey, Royal Omania always updates its operations and activities in connection with the latest recommendations and suggestions by:
World Health Organization (WHO)
International Civil Aviation Organization (ICAO)
Airports Council International (ACI)
Cruise Lines International Association (CLIA)
World Travel and Tourism Council (WTTC)
International Air Transport Association (IATA)
OUR EXPERTISE, YOUR ADVANTAGE!
The resourceful connections and strategic tie-ups we have with international airline companies, tour operators and hoteliers, helps us in offering you the very best services and the most competitive rates, every day, every season.
To offer our esteemed clients the very best experience, we operate with leading airline companies like Emirates, Gulf Air, Etihad, Saudia, etc.
Air, water, rail or road, anywhere you go, peace and happiness will accompany you! It's a 'Royal Omania' commitment. Specially designed itineraries for all kinds of budgets, be it economy, luxury or super extravagant, is our forte!
We reaffirm our dedication to serve you, and help you realize your lifetime dream – to see, feel and experience the places in your dreams!
WE ARE THE TICKET TO YOUR HAPPINESS!
Royal Omania, a name to reckon with in offering individual and bulk ticketing at competitive prices, is served by the renowned Galileo Reservation System and other on-line affiliations and tie-ups for the fastest and the most efficient ticketing services.
All the leading International Airline Companies have from time to time honoured the Royal Omania Management with verbal and written appreciations, and has rewarded our staff with the best incentives in the industry, for the tremendous volume of business generated, for their respective Airlines, all these years.
OUR SERVICE SPECTRUM ~ WITH THE DISTINCTIVE 'ROYAL OMANIA TOUCH'.
Air Tickets / Regular tour packages to Europe, Holy Land, Iceland, Singapore, Malaysia, Thailand, China, Hong Kong, Dubai, Australia, Africa, etc. / Tour packages covering Kerala, Tamil Nadu, and the entire South and North of India / Honeymoon packages / Backwater cruises in houseboats / Arrangements for Ayurvedic rejuvenation treatments / MICE / Multilingual guides / Worldwide hotel reservation / Innovative corporate services / Customized tours